Welcome to Mykrotek, your full-service computer technology partner. We make it easy to integrate the latest computer technologies into your day-to-day business, as well as your company's products and services. Our wide range of services give you the edge you need in today's increasingly computerized world. We also understand that it takes more than technology to succeed in today's business environment. Our customers enjoy our friendly, honest, and knowledgeable service, and we're sure you will too. Call us today and let Mykrotek help you harness the future!
Connect Your Business to the Internet. Keep in touch with current customers and prospective clients via e-mail. Get instant access to information for more accurate business decisions in less time. Research the latest technologies to help keep your business on the leading edge. These are just a few of the benefits of connecting your business to the Internet. Mykrotek helps you select and set up the most cost effective way for you to access the Internet, including Dial-up, DSL, ISDN, Cable, or T1 connections. More...
Streamline Business Processes with Software. Every company has its own way of doing business and handling workflow. Inventory management, sales tracking, and loss control are just some of the areas where computers can make your business more efficient. By moving paperwork and forms to a computerized system, you can reduce or eliminate errors and redundant information entry. When "off the shelf" programs can't meet your needs, Mykrotek designs and develops custom software solutions that meet your exact requirements. The result is a marriage of computers and software that is a perfect fit for your business. More...
Keep Your Computers Running and Up-To-Date. Should you update or replace that old computer? Will more memory or hard disk space make it run faster? Can your programs be configured to make everyday tasks easier? Take advantage of Mykrotek's years of experience to help you make the right decisions regarding your company's PCs. We analyze your current hardware and software, then recommend how to upgrade, repair, and configure your systems to deliver the performance you need to make your business run more efficiently. More...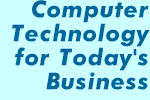 Make Your Products "Smarter". By incorporating computer technology into your products, you can easily add features and options that your customers will appreciate. When you replace switches, relays, and timers with compact computer hardware and software, you gain reliability and flexibility, typically at a lower cost. Everything from VCRs to vending machines have benefited from the addition of computer technology. Mykrotek is expert in creating embedded computer hardware and software for controlling a wide range of systems. Let us bring our extensive experience and knowledge to your new or existing product designs. More...
Automate The Factory Floor for Improved Efficiency. Adding or updating a control system for your manufacturing plant delivers shorter production cycles, better consistency, and lower costs. By replacing manual control panels with modern control systems and user interfaces, your personnel can monitor and control your product's quality instead of worrying about the details of production. Mykrotek helps with selecting the appropriate control systems and software, along with providing programming and support services. More...

---